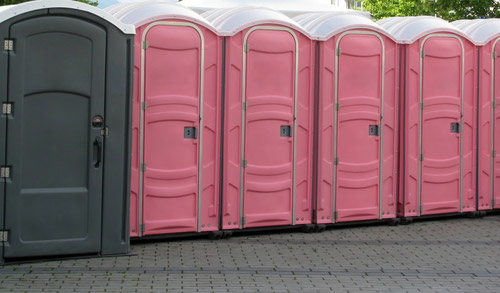 May 24, 2017 7:14 pm
Leave your thoughts
Just about everyone who's been in a standard porta potty can probably agree that, while space is tight, it does the job in a pinch. While traditional porta potties in Reading, PA work perfectly well for many events, there are other options available beyond what you're probably used to—and you'll definitely want to consider them depending on the details of your party.
Whether your event is small or large, low-key or upscale, routine or a special occasion, there's a portable restroom style that will complement it. Here are three options to consider, from basic to anything but.
Standard Portable Restrooms
Maybe your event is on the casual side, or maybe you're expecting a large number of people and want to maximize the number of guests your restroom facilities can accommodate. A standard portable restroom is an affordable option that can give you more individual toilets for your money.
If you know guests will simply want to get in and out so they can return to the fun, standard portable restrooms are the ideal choice. Standard porta potties each come equipped with a urinal, toilet and toilet paper holder. You can also add hand sanitizer to each unit to ensure that guests can use proper hygiene.
Event Comfort Stations
If you're looking for a restroom option that offers a little more space and additional amenities, consider an event comfort station. This is a good choice for events that call for more style than—let's face it—a standard porta potty can provide.
Event comfort stations are trailers with waste and water tanks, as well as separate facilities for men and women. When you rent one of these, your guests will enjoy roomier stalls and working sinks. For added comfort, these trailers have heat and air conditioning and can be used in various kinds of weather.
Wedding Comfort Stations
Need a restroom that fits with your classy outdoor nuptials? A wedding comfort station provides the space and small luxuries to keep everyone looking and feeling their best. This is also a great option if you'd like to have a separate restroom exclusively for the wedding party's use.
In addition to temperature control and working sinks, wedding comfort stations feature oak vanities, mirrors and hot water. Guests can easily touch up makeup, fix wardrobe malfunctions and help brides navigate fancy wedding dresses.
Go with the option that works for you
The team of experts at Scotties Potties can help you tailor your restroom strategy to the scope of your event. We've been providing porta potties in Reading, PA to events of all sizes and types for 30 years, and are able to highlight the particular advantages our different options might offer depending on your particular event. Whatever you're planning, we'll help make sure you have the facilities you need so you can focus on having a great time. Get in touch with us today to schedule a consultation and secure porta potties for your upcoming event—we look forward to assisting you!
Categorised in: Portable Bathrooms
This post was written by admin